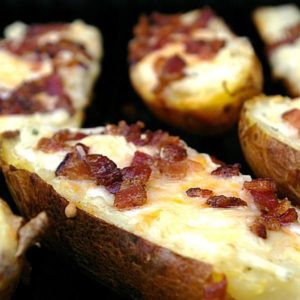 Camping meals are an important part of the experience and something campers look forward to as much as the fun and friendship that comes with it. Good food, good friends, time with family, and campfire nights are what memories are made of so it's nice to have an extra recipe or two at the ready to feed a hungry bunch of campers.
Grilled Potato Skins – These are particularly good because you can make them ahead of time and then just add them to the grill when you're ready. You'll be cooking whole potatoes, then hollowing them out and adding the mashed potato flesh to some cheddar cheese, diced onion, crumbled bacon, and spices. Then pop it back on the grill until it's warm and bubbly. They really are so good.
Dill Baby Potatoes – You start with those round little new potatoes and will be marinating them in a mixture of olive oil, garlic, fresh dill, butter, sea salt, and pepper. Place them in a foil pack and grill them for 30 or 40 minutes. They'll be creamy and tangy and delicious.
Parmesan Potato Wedges – These go great with steak or burgers and there is no need to peel the potatoes. You cut your potatoes into 8 wedges, place them inside a foil pack, add olive oil, italian seasoning, sea salt, garlic powder, and let them cook for awhile. When they are nearly done you open the foil and add some shredded cheese to finish them off. Yumm!
You can find the recipes for these potato recipes and more at Top 10 Potato Recipes to Try on the Grill. We hope all your camping meals are delicious and memorable. We also hope they are enjoyed with the people who matter most to you. Give us a call and make your reservation soon. We look forward to seeing you here soon!