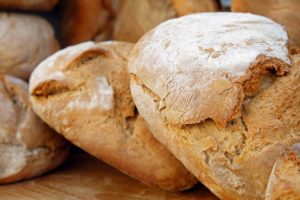 Part of what makes camping so great is the food we look forward to eating during our trip. Of course there will be hotdogs, burgers, and S'Mores but have you ever made bread while you were camping? It can easily be done in a Dutch Oven. The smell of it alone will be enough to bring the kids running.
You'll find a great recipe for doing it right at: Campfire Dutch Oven Bread
Some things to keep in mind when you are making your bread.
1) Let Dough Rise
The first tip that is going to matter when it comes to the quality of your bread and how good it looks has to do with letting the dough rise. If you don't let it rise, the dough is not going to work out the way you want. It can be hard to be patient but it will pay off for you.
2) Set Stable Conditions
You can't really control  the temperature of the coals you set your Dutch Oven in but you can keep them from varying too much. Don't add to them or let them cool too quickly while the bread is cooking.
3) Add Flour If Dough Is Wet
There is a "feel" you'll learn to recognize when the dough is just right. In the beginning it is best to underdo the water as it is easier to add water than to deal with dough that has become too wet. After a few batches you'll know just how the dough should feel when it will end up just right for bread.
We hope you enjoy many campfire meals with your family this summer and we look forward to seeing you here at Whispering Oaks.