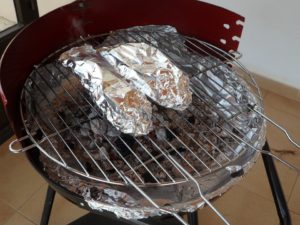 It's been done for years but is making a recurrence lately; cooking delicious camping in foil packs. It's easy, your meal can be prepared all at once in the morning, and it requires almost no clean up. Three great reasons to try it out. We'll share some recipes to get you started and we think you'll become a big fan of cooking with foil packs.
Grilled Meatloaf Dinner in Foil
Make your favorite meatloaf mixture and press it into several mini-loafs. You'll be putting each mini-meatloaf into a foil pack along with carrots, and potatoes. Your whole dinner in single-serving foil packs for everyone at your campsite.
Low Country Shrimp Foil Packs
This will be a fast favorite and it is so simple to put together. Gather up some sausage, shrimp, frozen mini ears of corn, and Old Bay Seasoning. You'll wrap it all up and toss it on the grill or into the campfire. Just a short time from now you could have an amazing meal for the whole crew with no clean up afterward.
Double Barbecue Bacon Chicken Packs
You will love this chicken meal and so will everyone else at the campsite. Add all your favorite things such as chicken, potatoes, bacon, cheese and some seasonings. You'll have dinner all prepped and have time to play by early morning.
These are a few tasty foil pack versions for you to try on your next camping trip. You can find more recipes at 15 Foil Pack Favorites. Give them a try, we think you'll love this new way of cooking around the campfire.