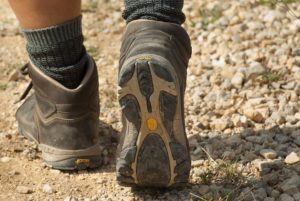 You'll burn a lot of energy once you get to your campsite or hit the trails with your friends. Preparing for this will make the whole experience better and we have some suggestions to help you plan ahead.
Bring good shoes. That's one of the most important things to make sure you have available to you. Your feet will thank you for it. You'll be walking a lot during your stay and sandals are fine most of the time but when you really plan to put some miles on those feet be sure to wear good shoes. Boots are even better  for hiking. Who wants blisters to spoil the rest of their stay?
Some soft, cozy socks will help on cool nights and on the trails. Bring a few pair so you can keep your feet dry and have backups when your socks get wet or dirty. Bring sunscreen and insect repellent as well.
Rain gear will be a life saver if you get caught in the weather. It can also be used to cover items you want to stay dry but are too big to bring inside. Carry some waterproof matches or a lighter with you, too.
These items will be a good start to a good camping trip when you want to explore the area. Get out in nature and be prepared. We know you will have a wonderful time.