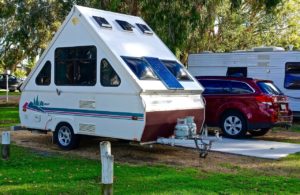 If you want to buy a beginner RV, you should consider buying a pop-up camper. It is among one of the most budget-friendly RVs readily available for the consumers on the market. These are light weight and can be easily towed by a full size automobile. These campers can also be towed by a small pick-up truck. A pop-up camper can be the perfect recreational vehicle for those that have an entry level spending plan. Pop-up campers can be purchased new, often for between $5,000 – $10,000.
Pop-up campers are perfect for a family of four. The household could sleep comfortably in the trailer, particularly if the children are small enough to share a bed. The basic system of a pop-up camper includes 2 fold outs. These can be used for sleeping quarters. The main system consists of a small dining area, a small refrigerator, a storage space area, cook-top and sink. Don't expect a bathroom in the entry level pop-up trailers. Many people favor utilizing portable toilets for emergency situations and also use the campground facilities.
If you choose a higher priced pop-up camper, you can benefit from a cassette toilet and a shower. Some of these pop-up trailers also have the option of a slide to give you added living space.
These efficient campers can provide the very best of protection with elements such as heavy duty canvas and a metal roof. If you plan to go camping often, a pop-up would be a very comfortable and affordable option.
If you're not quite sure how well you will like camping, you might consider leasing a pop-up for your first few times out. Check out your local dealers and ask them questions about the models they carry. Do your homework and check out several places before you buy. There can be a wide range of pricing on a pop-up, depending on multiple factors.